KLEINABZEICHEN, MITGLIEDSNADELN 1871-1945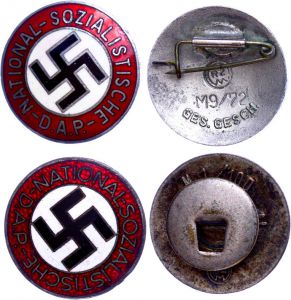 Nazi German worker party (NSDAP), 2 x member badges, enameled, 23 mm, 1 x on the reverse side with stitching and manufacturer "M9 / 72" Wilhelm Kolwitz Hamburg and 1 x as buttonhole decoration on the reverse side with manufacturer "M1 / 100" Werner Redo Saarlautern, Hüs. 4011 b, both condition 2.
For lots of the clearance sale we accept underbids up to 30% starting price - if there is no higher bid!