SEMI-OFFICIAL AIRMAIL STAMPS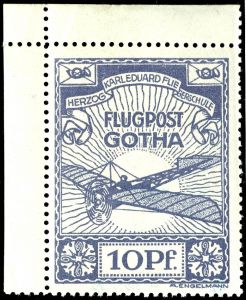 10 Pfg. Airmail Gotha, left upper corner of the sheet mint never hinged, photo expertize C. Brettl BPP: "genuine and immaculate", Michel 800.- - the last from us offered copy in this preservation obtained during of our 174. Auction 420.- Euro.
For lots of the clearance sale we accept underbids up to 30% starting price - if there is no higher bid!