FEDERAL REPUBLIC OF GERMANY (F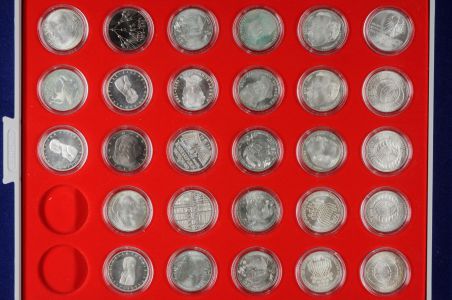 Federal Republic of Germany collection German Mark and Euro coins in silver from 1952. Included are the first five 5 DM commemorative coins (J. 388-391 and 393), 10 DM and 10 Euro lots in capsules (PP and st), a number of Sets 10 DM and 10 Euro officially commemorative coins, 5 Euro set climate zones the earth of the years 2016 (st. And PP), 2017 ( all coin sign, PP), 2018 (all coin sign, double, Mzz D and J, PP), 2020 (all Mzz, PP, double). Among others are Euro circulation coins the 12 EU states (in box), 2 Euro commemorative coins Sets and 20 Euro collector coins (in OVP).
For lots of the clearance sale we accept underbids up to 30% starting price - if there is no higher bid!