FIELDPOST - FOREIGNERS IN THE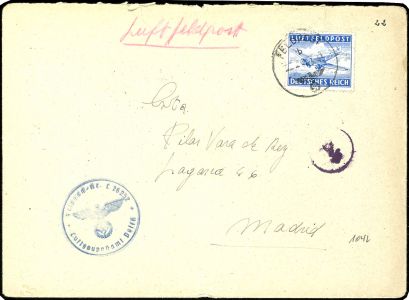 \"weapons brotherhood Third Reich\" Spanish \"blue Division\": air fieldpost letter from 01.03.1943 with air fieldpost approval stamp, senders note and army postal service number L. 26252 the 15. Squadron \"fighter wing Mölders\" the Escadrilla Azul the Spanish fighter pilot in the eastern theatre of war to MADRID / Spain. Arrival postmark from 10.03.1943. Very rare!
For lots of the clearance sale we accept underbids up to 30% starting price - if there is no higher bid!